STAYFRESH HYGIENE SERVICES
SERVICES AVAILABLE
Stayfresh sanitary bin disposal service
Hygienic: Powerful bactericide at the base of each sanitary bin unit sterilizes contents while a perfumed vapour prevents unpleasant odours.

Convenient: Our fully trained female team sees to the entire process of removal, installation and maintenance of the sanitary bin system.

Compact: Each sanitary bin unit fits snugly into the cubicle, and the flap lid has a disposal tray that keeps the contents hidden even when the lid is lifted.replica watches

Discreet: Your female staff will appreciate the thought you've provided to ease their problem. The unit fits discreetly into each cubicle for convenience and ease.

Effective: Forget old pedal push and ordinary dustbins, sanitary bin disposes of towels and tampons using the environmentally safe and effective method.

Prevent costly plumbing repairs due to blocked pipes.
Additional service/product available under stayfresh:
On Service * / outright purchase item
Soap Dispenser *
Toilet Seat Cleaner *
Jumbo Roll Tissue Dispenser/ Tissues roll
Hand Towel Paper Dispenser
Handryer
Ozonizer
Stainless Steel Bin/washroom equipment
Multipurpose anti slip mats/vinly matting/entrance mats
9) General cleaning equipment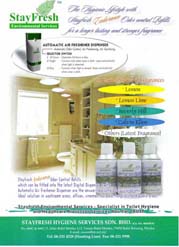 Click to enlarge
Stayfresh Hygiene Services (MA 0021146-W)
Stayfresh Hygiene Services Sdn Bhd (A 466430)
Stayfresh Pest Control Services Sdn Bhd (Co No 471007-K)

Melaka Office
No 666C & 666C/1, Jalan Bukit Melaka 1/2, Taman Bukit Melaka, 75450 Bukit Beruang, Melaka, West Malaysia, Malaysia

JB Office
No.33-01 Jalan Austin Height 3, Taman Mount Austin, 81100 Johor
KL/PJ Office
No. 46-1 Jalan Puteri Mahkota 7/6B, Putra Heights, 47601 Selangor
CALL NOW FOR A FREE SURVEY
+606-2314528, +6019-6268304, +6012-6285952 (Melaka Office) +606-2315998 (Melaka Fax)
+607-3597100, +6019-7737315 (JB Office) +607-3597100 (JB Fax)
+6010-2255643 (KL/PJ Office)
Email us at :info@stayfresh.com.my
Stayfresh Hygiene Services is registered with
- Kementerian Kewangan Malaysia
xx (357-00046105)
- Tenaga Nasional Berhad (V 002476)
- Telekom Malaysia Berhad (FUJS/B/186/2000)
- Multimedia University (UT98R00161)
- Sirim Berhad (S 0006)